New spring 2012 A Short Fanzine About Rocking out now!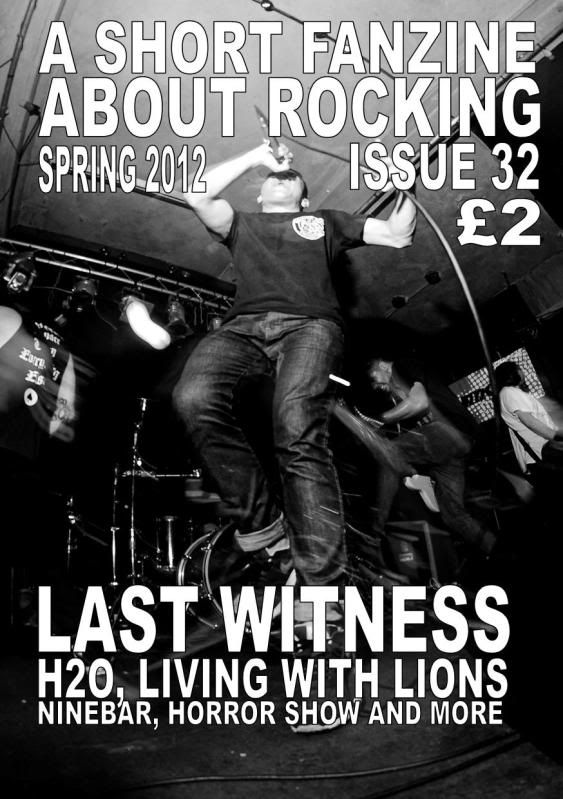 The brand new spring 2012 issue of A Short Fanzine About Rocking is out now!
It includes interviews with all these awesome bands: LAST WITNESS, H2O, I AM THE AVALANCHE, HORROR SHOW, NINE BAR, LIVING WITH LIONS, TRANSIT, VEILS and INHERIT.
Plus shedloads of record/gig/zine reviews, columns and more.
88 pages in all for just £2!
The easiest way to get a copy is to go to http://ashortfanzineaboutrocking.bigcartel.com and order one direct.
Copies will also be on sale in All Ages in London (http://www.allagesrecords.com/), V-Revolution in Manchester (http://www.vrevolution.co.uk) and Piccadilly Records in Manchester (http://www.piccadillyrecords.com) from Monday (March 5th). Other stockists, including Holy Roar, Fist In The Air, That's Not Skanking and more should have copies available within the next week or so.
I'll also have copies to sell at gigs I'm at in London over the next few weeks, which include:
·         Lifeless/Ninebar at Star of Kings on March 4
·         Hang The Bastard/Crossbreaker/Veils at Camden Barfly on March 7
·         Goodtime Boys/Bastions at Hope & Anchor on March 10
·         Bane/Cruel Hand at Camden Underworld on March 11
·         The Acacia Strain/BWP/TRC at Camden Underworld on March 17
·         Ceremony at Kingston Fighting Cocks on March 19
DISTROS - Wholesale (i.e. cheaper) rates are available for bulk purchases, get in touch via ashortfanzineaboutrocking@yahoo.co.uk for more details.
moshtacherecords reblogged this from ashortfanzineaboutrocking and added:

On the way to distro yew!