Brand new A Short Fanzine About Rocking out now!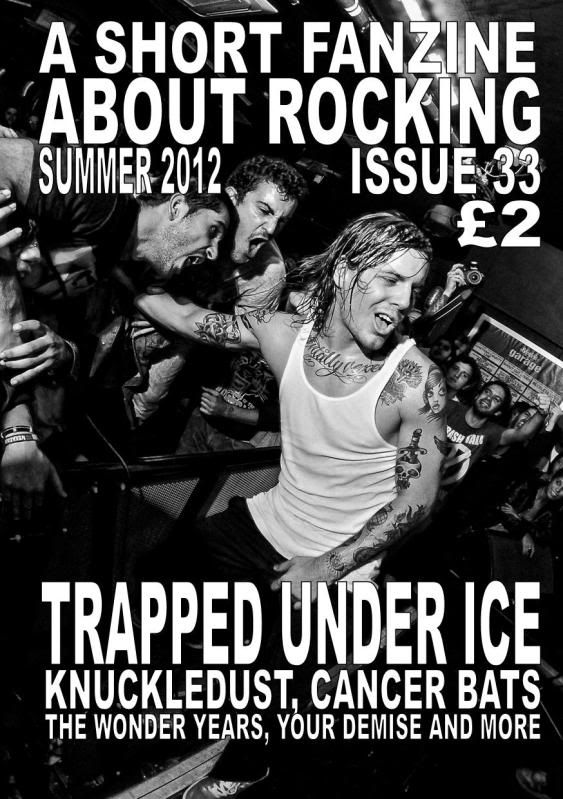 The summer 2012 issue of A Short Fanzine About Rocking is out now!
It includes interviews with all these awesome bands: Trapped Under Ice, Cancer Bats, Your Demise, Knuckledust, The Wonder Years, Set Your Goals, Pariso, Hang The Bastard, Gnarwolves, Frustration, Landscapes and The Beautiful Ones.
Plus a shedload of gig/record/zine reviews and a bunch of columns.
All for just £2 (plus postage).
Go to http://ashortfanzineaboutrocking.bigcartel.com to buy a copy now!
I'll also be selling copies at these shows in the next couple of weeks:
Brotherhood Of The Lake @ The Old Blue Last, London on Tuesday 26th June
Comeback Kid/No Turning Back @ The Borderline, London on Friday 29th June
Defeater @ The Fighting Cocks, Kingston, on Monday 2nd July
Kerouac @ The Old Blue Last, London on Saturday 6th July
I Killed The Prom Queen @ Camden Underworld, London on Tuesday 10th July
Above Them @ Brixton Windmill on Friday 13th July
Copies will also be on sale from All Ages in Camden from Monday (June 25th) and should also be appearing in all the usual stockists over the next week or two.
If you're interested in taking a few copies to sell on your distro or merch, or in a shop, get in touch for cheaper wholesale rates.
Any questions, e-mail ashortfanzineaboutrocking@yahoo.co.uk
PLEASE SPREAD THE WORD!
colours-move likes this
ashortfanzineaboutrocking posted this